Fadhil Alwan-Degenerative spinal disease-(Iraq)-Posted on Feb.2nd, 2017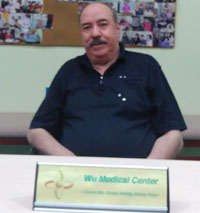 Name: Fadhil Alwan
Sex: Male
Nationality: Iraqi
Age: 70Y
Diagnoses: 1. Spastic paralysis of legs, degenerative spinal disease; 2. Hypertension level2; 3. Hyperlipemia
Date of Admission: October 11th, 2016
Treatment hospital/period: Wu Medical Center/13 days
Before treatment:
Fadhil developed amaurosis when he was walking 15 years ago, he couldn't see anything, it lasted for 5 minutes and then his sight returned to normal. He went to the hospital and had some tests done. All the results were normal. After that, his right lower limb became weak without any apparent reasons. There was no pain or numbness. There was no muscular atrophy or swelling. His right lower limb was weaker; his left lower limb became weaker 10 years ago. He had several kinds of tests done, all the results were normal. He thought he had lumbar problems, so he underwent surgery twice, but after the surgeries, his condition wasn't improved. He had urination problems 5-6 years ago, he couldn't empty his bladder, so he urinated many times a day, his prostate function was normal. At present, both of his lower limbs are weak, he can walk by himself, his right leg limps, but he is able to take care of himself. He wants to have better treatment so he came to our hospital. He was diagnosed with spastic paralysis of the legs, and degenerative spinal disease.
He was in good spirits. His sleeping pattern was normal. His bowel movements were normal with the help of medication. He urinated many times a day.
Admission PE:
Bp: 138/90mmHg.Hr: 78/min. Br: 18/min. Temperature: 36.7℃. HT: 180cm. WT: 101kg. Fadhil's body weight was normal and he was nourished. His lips had nocyanosis. There was no pharyngeal congestion. The thorax was symmetrical. The respiratory sounds in both lungs were clear, with no dry or moist rales. The precordium had no upheaval, the heart sounds were remote. The heart rate was regular: 78/min, there was no obvious murmur in the valves. His abdomen was enlarged and soft, without pressing pain or rebound pain or any masses. The liver and spleen were normal under palpate touch. Negative drifting dull. The spine physiological bending was normal. There was a 15cm scar and the union was good. The legs had pitting edema.
Nervous System Examination:
Fadhil was alert and spirited. He spoke fluently. The memory, calculation, and orientation were normal. Both pupils were equal in size and round, the diameter was 2.5mms. Both pupils were sensitive to light stimulus. His eyes moved normally. The forehead wrinkles were symmetrical. He could close his eyes with ease. He could expand his cheeks and the bilateral soft palate could be raised up normally. The mouth and teeth were not deflected and the tongue was centered when extended. The neck was soft and could turn strongly. The shoulders could shrug normally. The strength of the upper limbs was normal. The strength of the legs was level 4 and the right leg was weaker than the left leg. The bilateral biceps reflex and radial periosteal reflex were normal. The patellar tendon reflex was active. The bilateral palm-jaw reflex, Rossolimo's sign, Hoffmann's sign and Babinski's sing were positive. The bilateral deep and shallow sensations were normal. The coordinated movements were normal. The meningeal irritation sign was negative.
Treatment:
Fadhil was diagnosed with spastic paralysis of the legs; Hypertension level 2; Hyperlipemia. He received 3 neural stem cell injections and 3 mesenchymal stem cell injections to repair his damaged motor nerves, replace the dead nerves with new injected stem cells, improve his blood circulation, nourish the neurons and improve his nutritional status, blood pressure control and lipid adjustment. This was accompanied with physical rehabilitation.
Post-treatment:
After 13 days of treatment, the blood pressure has been stabilized from 110-130/70-85mmHg. The frequent micturition has improved.