Seguel Hector Martin-Epilepsy-(Argentina)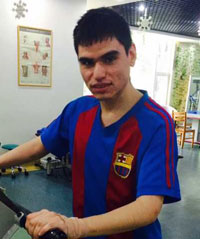 Name: Seguel Hector Martin
Sex: Male
Nationality: Argentina
Age: 20 Years
Diagnosis: 1.Cerebral Palsy 2. Hydrocephalus(postop. Ventriculoperitoneal Shunt) 3. Secondary Epilepsy
Date of Admission: Aug. 30, 2015
Treatment hospital/period: Wu Medical Center/22 days
Before treatment:
The patient was easy delivery when his mother was pregnant for 42 weeks. He was chocked after he was born for 3 hours. The doctor gave him the breathing machine, and he was found to have hydrocephalus and received the ventriculoperitoneal shunt. He was diagnosed as 1.Cerebral Palsy 2. Hydrocephalus(postop. Ventriculoperitoneal Shunt) 3. Secondary Epilepsy by the local hospital. When he grew up, he have some mental and intelligence develop problems. He bite his hands when he got emotional. He had dyskinesia, the muscle tension of his lower limbs was higher than normal. It was hard for him to stand up or walk. He went to have rehabilitation training twice a week, and study at special school. But his mother told the doctor, he had some problems, he couldn't read or write simple sentence. He could only speak simple sentences. He couldn't walk due to both ankles were contractural. It was hard for him to stand up, the posture was abnormal. His family wants a better life, so he comes to our medical center.
His spirit, sleep, diet and urination were normal, his intelligence and movement were abnormal, his excrement was irregular.
Admission PE:
Bp: 112/72mmHg. Hr: 62/min,. Br: 18/min. Body temperature: 36.5 degree. Height: 160cms, weight:52kgs. His physical development and nutrition were normal. The skin and mucosa were normal with no yellow stains or petechia. There were acne disseminate on his face. The respiratory sounds in both lungs were clear, with no dry or moist rales. The cardiac rhythm was regular, with no obvious murmur in the valves. The heart sound was strong. The abdomen was flat, with no mass. His liver and spleen were normal. There was no edema in both lower limbs.
Nervous System Examination:
Seguel Hector Martin was alert and his spirit was good. He could speak clear but he couldn't express his feeling well. He could only count from 1-20. His comprehension and reaction were not very well. The diameter of both pupils was 2.5mm, and were sensitive to light stimulus. The right eyeball was hard to see left side. The forehead wrinkle pattern was symmetrical, the bilateral nasolabial sulcus was equal in depth. His tongue was centered in the oral cavity with no teeth deflection, his pharyngeal reflex was normal. He could shrug his shoulders powerful. The muscle power of four limbs was at level 5-, he had varus deformity of his ankle joints. When he stand up, his heels couldn't touch the ground, his standing posture was abnormal and unstable. Both of his hip joints were weak to hold up his body. The adductor muscles tension of both lower limbs was a little higher. The tender reflex of four limbs was normal. Abdominal reflexes were normal. The sucking reflex was positive. Both side Babinski sign was positive. The deep and shallow sensation was normal. Both of his hands did the finger to nose test, finger to finger test and rapid rotation test slowly. He couldn't do the heel-knee-tibia test very well.
Treatment:
After admission, Seguel Hector was diagnosed as 1.Cerebral Palsy 2. Hydrocephalus(postop. Ventriculoperitoneal Shunt) 3. Secondary Epilepsy. He received 4 times of neural stem cell injection and 4 times of mesenchymal stem cell injection to activate the cells, nourishes neurons, improve circulation and immunity. He also had physical rehabilitation.
Post-treatment:
After 3 weeks treatment, his nerve function was better. His reaction was better, his mood was stable, he didn't bite his hands when he anxiety. He could speak better, his sound was clear, he could count from 1-50 better. His eyeballs could move better. The ankles have less tension, his ankle joints were not that malformed. When he stand up, his heels could touch the ground, he could stand normal and walk better.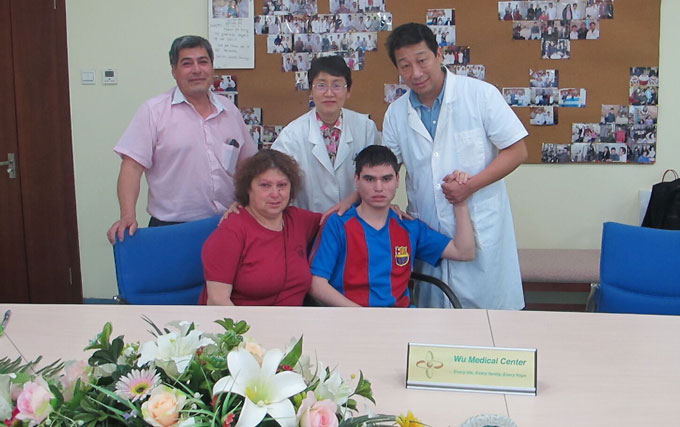 (Download the Windows Media Player Firefox Plugin if you are using Firefox browser.
To know more,Please read Using the Windows Media Player plugin with Firefox.)