Giovanni Valenti-Epilepsy-(Argentina )
Name: Giovanni Valenti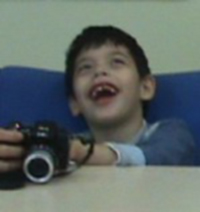 Sex: Male
Age: 6 years old
Nationality: Argentina
Diagnose: Cerebral Palsy and Epilepsy
Before treatment:
The patient was born through cesarean section at 30 weeks of pregnancy due to an acute peritonitis resulted from appendicitis. Giovanni was 1.400Kg weight and had an autonomous breath when he was born. Fourteen days later he suffered from pneumonia and apnea, and so was given 3 days of assisted respiration by tracheal cannula and ventilator before he recovered spontaneous breath again. He had difficulty in swallowing and eating so gastric tube was indwelled for 2 months. Giovanni's condition became stable and he discharged from hospital two months after he was admitted.
Thereafter, Giovanni ingested semi-liquid food. He started to have epileptic seizure. He had the seizure eight times a day and lasted 1-2 minutes each time. It usually happened when he was nearly asleep. Giovanni underwent cranial MRI and EEG examination and he was diagnosed with cerebral palsy and epilepsy. He took oral medicine of Vigabatrin for 1 year which was then replaced by oxcarbazepine, but epilepsy was not well-controlled. His oral medicine was adjusted bit by bit and at present his oral medicine are Oxcarbazepine, levetiracetam and Vigabatrin with which his epilepsy has been controlled. He still has the seizure (1-2 minutes) when he was tired.
Admission PE: Br 25/min. He suffered from developmental retardation. He had speech disorder and could only make a sound "a". He could not perform memory, calculation and orientation test. His comprehension was poor and it was difficult to communicate with him. He had trouble supporting his head in a seated position. The muscle strength of his waist and back was poor. He could not either sit himself up or maintain a seated position. His lower limbs presented with obvious scissors gait when he walked with assistance. His left hand could grasp objects while his right hand was not able to. His four limbs have autonomous movement but he could not perform the muscle examination of his four limbs. His muscle tone of his lower limbs was higher than normal when he was in a relaxed condition. His ankles clonus in bilateral side was positive and Babinski sign in the right side was positive. He could not perform the sensory examination or the movement coordination examination.
Treatment:
Since the patient was admitted on Oct 21 2013, we initially gave Giovanni a complete examination. We administered the stem cells transplantation and stem cells activation treatment to repair the damage to the neurons. Giovanni received treatment to improve the blood circulation in order to increase the blood supply to the damaged neurons and to nourish them. He was also given daily physical rehabilitation training.
Post treatment:
The epileptic seizure is reduced than before. Giovanni is able to better perform with rehabilitation training. The motor function of orbicularis oris has been coordinated. His muscle strength of waist and back has improved. He has a better seated posture and he can maintain a longer time in a seated position; his right arm showed initiative supporting to his crawl. He can crawl better. His right hand can stretch to a straight level and he has a small range of grasping while he is not able to hold objects stably yet. The muscle tone of his lower limbs has decreased as compared to before. His scissors gait has been alleviated.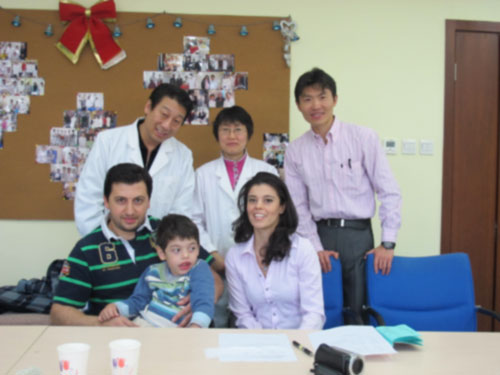 (Download the Windows Media Player Firefox Plugin if you are using Firefox browser.
To know more,Please read Using the Windows Media Player plugin with Firefox.)
Email from Giovanni Valenti's parents
Date: 2013-12-25
Subject: VALENTI GIOVANNI
Shipping Dr. Giovanni Valenti's analysis. Tale state that encourage good health and sleep more hours and had no more epilepsy
thanks greetings
Date: Wednesday, April 02, 2014
Subject: GIOVANNI VALENTI
Hola Yao, Giovanni ya a cumplido el periodo de los medicamentos dados por la clinica para el tratamiento y queriamos saber como reducirlos para eliminar de a poco los medicamentos,Giovanni a estado bien y a seguido progresando solo a tenido 2 ataques epilepticos desde el tratamiento y fueron de periodo corto.Esperamos recibir respuesta a la brevedad .
saluda atentamente familia de Giovanni Valenti Carte.
The following are translate from Spanish:
Giovanni has eaten all the medication taking from China. I want know how to reduce the quantity of medication, then stop the medication. Giovanni's condition is better and make progress gradualy. He only suffered two times epileptic seizure and the last time was very short. Please reply me, thanks.